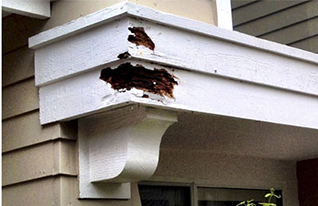 Dry Rot – Good for Nature, Bad for Your Home
Dry rot in nature is a vital decomposition process and is part of the natural cycle of any forest or wooded area. However, in your home it is anything but vital.
Dry rot is wood decay caused by fungi and fueled by wood and moisture. Because fungi are living, it grows and spreads given adequate nutrients and the proper environment. Thus, the sooner you catch and take care of the issue – the better.
Any wood that is susceptible to getting wet, either through deterioration of the original sealing or lack of sealing/protection in the first place, is in danger. If you catch the problem early, it may be treatable. However, replacement of the affected portion of the area is usually the remedy.
Typical areas it is found:
Exterior portions of window frames and doors
Outdoor decks / patio covers
Damaged roofing
Rooms areas with high humidity or that are continually damp.
Preventative measures:
Seal cracks with caulk, and/or replace aged caulking
Divert rain from the sides of your home (e.g. install gutters)
Repaint aged exterior areas
Don't allow water to puddle on decks or next to wooden material.
Keep soil levels low and away from exterior wood.
For more about Dry Rot and its remedies – see our main Fungus/Dryrot page.