Termite FAQ
Know your enemy!
What are the different kinds of termites?
There are basically three types of termites that we encounter in Southern California: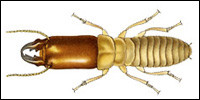 Drywood Termite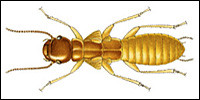 Dampwood Termite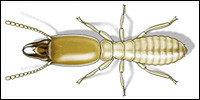 Subterranean Termite
How do I know if I have termites?
First & foremost, we recommend to have yearly inspections on your home which Quality First provides at no charge.
The most common evidence of these termites are their droppings. Droppings are fairly easy to detect. They resemble sand or coffee-like granules which are golden to reddish-brown in color. You are also able to detect their wings during the early spring and late fall. Drywood termites will fly (swarm) out of their colonies to the nearest light source rich in cellulose (your home). Once this destination is reached, they shed their wings right before boring into wood and mating. You may see a few or as many as a hundred in certain areas.
The most common way to detect subterranean termites are their mud tubes which are approximately a quarter inch in diameter and they extend from the ground to the nearest wood source. The most common areas to detect these termites are areas where heat radiates and/or moisture and dampness occurs such as water heater spaces, furnaces, water pipes, refrigerator, washer & dryers, outside water sources, showers & tubs, toilets, sink areas, dishwasher spaces, and underneath houses on raised foundations.
These termites are rare but are occasionally found in homes with severe water damage. Dampwood termites are the largest of the termites ranging from one to one and a half inches in size with four large wings of equal size. They prefer to live in damp wood that is severely decayed.
What kind of treatment is available?
There are many types of treatment that exist along with a lot of confusion on when to local treat or fumigate a property. We, at Quality First Termite, personally believe that local treatments are effective only when:
A thorough inspection has been made.
A proper recommendation of each finding has been made.
When termites are minimal and exist in visible and accessible areas.
Even if termites exist in inaccessible areas, that area must be practical and cost efficient to open, treat, and close these areas.
When severely damaged wood is to be removed and replaced to minimize the amount of infestation left for a treatment.
Most of all, to have a quality staff that cares enough to perform a quality treatment required to eliminate your termite problem along with your concerns. For more information on the type of chemicals we use, please call us.
What kind of damage can termites do?
If termites are left undetected, they can do severe damage that requires thousands of dollars to repair. This is why we suggest to have yearly inspections which Quality First Termite Control provides at no charge.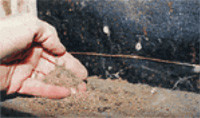 Termite Pellets (Droppings)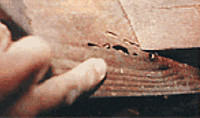 Light Termite Damage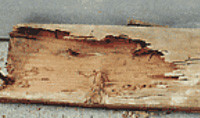 Severe Termite Damage
How often should a home be inspected for termites?
Termites swarm every year, inspections should be performed on an annual basis. Most people do not realize they have termites until obvious damage is noticed and this is why realtors should consider having a potential listing inspected prior to opening escrow. This will eliminate surprises at the close of escrow.
How do I choose a termite control company?
Ask around your office or your friends and relatives .Word of mouth is everything in our industry. For realtors we suggest they check with other realtors to see who they have been happy with, follow an inspector around one of their listings and obtain competitive bids. Read contracts carefully and ask about anything you don't understand. It is likely you will find some significant differences in price and treatment options. Have a representative of each company assess and estimate the cost to treat your home. Note what equipment they brought with them to do the inspection. Did they have a flashlight, a screwdriver or a probe of some sort? Did they have a moisture meter, and did they know how to use it? Did they do a thorough inspection and draw a map of your home? What are the renewal options of the contract and what conditions would void the warranty. The Better Business Bureau may be able to provide information on complaints they have received concerning a company. All registered companies are accessible through the State of California Department of Consumer Affairs website at www.pestboard.ca.gov.