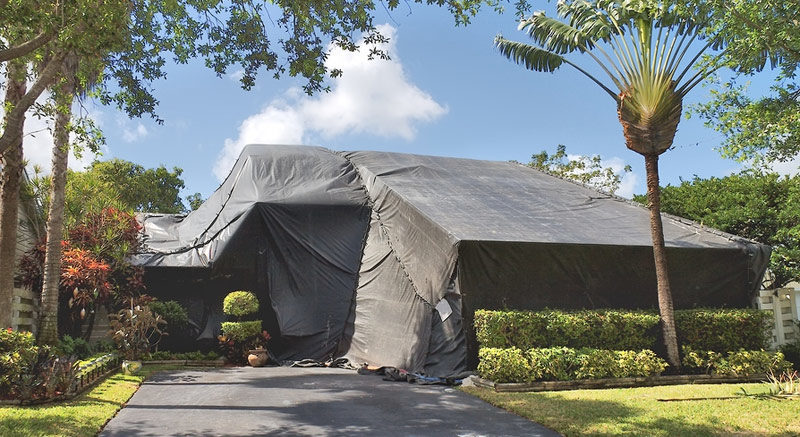 Fumigation
Things you should know …
Unfortunately millions of homeowners are advised that their home is termite infested and fumigation of their home is needed to resolve the problem. At Quality First, we explore every avenue to solve your infestation problem through local treatment alternatives. However, if the infestation is too pervasive, a whole tent fumigation is the only way to effectively rid your home or business of these destructive insects.
The fumigation process will usually take approximately 72 hours. The fumigator will cover the home with large tarps, prepare the interior, seal the tarps and then release the warning agent with the use of a special hose attached to the fumigant cylinder kept outside of the property. The fumigant penetrates into wood to eliminate drywood termites.
Once that procedure is completed the property is aerated and the fumigator will then certify that the property is ready to be occupied again.
The warning agent used in the process is Chloropicrin. This is a colorless liquid with a strong order, and causes tearing of the eyes as well as throat irritation when used at low concentrations. This warning agent is used to ensure that the property is vacated of people and pets prior to fumigating with Vikane.
Vikane is a colorless, odorless gas that is non-flammable, non-staining, non-corrosive and is non-detectable during fumigation.
Preparation for the fumigation process
In addition to the information provided, you will need to check with your fumigator for additional home preparation information.
48 hours prior to fumigation you will need to contact the gas company to shut off and restore service.
One day prior to fumigation:
To protect your outdoor plants and shrubs, soil should be watered up to 18 inches from the outer walls of the structure
Landscaping, foliage and shrubbery should be cut back at least 18 inches from the structure to allow room for the tarps
Be sure to make other arrangements for your family and pets for overnight accommodations as you will not be returning to your home for 72 hours
Should the weather be uncooperative, your fumigation may need to be rescheduled as rain and high winds may cause a potential danger to fumigators
The day of the fumigation:
All plants, including those on outdoor patios, should be removed
The structure must be clear of all people and pets
Remove or double-bag any food, drugs and medicinals, and feed in special Nylofume bags. Your fumigator will provide these for your use. Items in plastic, glass, metal bottles, jars or cans with the original manufacturer's airtight seal do not require removal or to be placed in the bags
You will seal the Nylofume bags, one at a time, by twisting the tops or folding down and sealing with tape, string, rubber bands or twisty ties. DO NOT TIE BAGS IN A KNOT. Again, your fumigator will provide you with additional information and instructions for the appropriate bagging procedure
For cold and frozen foods you will double-bag these items and leave them in your freezer and refrigerator. You may consider removing the shelves to make it easier to stack the bagged food in the freezer and refrigerator.
REMOVE OR DOUBLE-BAG anything, such as spices, medicines etc., that will be ingested.