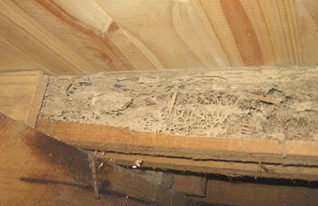 Termites – The Danger You Can't See
You know the old expression "out of sight, out of mind?" Well, what you can't see CAN hurt you, big time. Termites are small and can be hard to spot, but they cause more than $5 billion dollars' worth of  damage in the United States each year. This is not just cosmetic damage we're talking about either. Termites can literally eat away at the structural integrity of your home. The cost to the individual homeowner to repair damage (after eliminating the problem) can vary widely, but you could be looking at several thousand dollars to repair your home, both cosmetically and structurally. Early detection is key to keeping costs low.
So how do you know if you have termites? Here are some signs to look for.
The most common evidence is droppings. They look a lot like sawdust (no big surprise there, considering their diet), but a little more granular and are golden to reddish-brown in color.
Subterranean termites need a damp environment, so they construct mud tubes from the ground to the nearest wooden structure. These tubes, which are about 1/4″ in diameter, may also appear as a fan-like structure on foundation walls.
Drywood termites grow wings during their reproductive phase, which they collectively shed when they swarm to a new location. You know you have termites if you see a lot of these wings on the ground outside your house. An existing colony in your home may swarm inside your house, in which case you may see the flying insects themselves, or their discarded wings.
Far and away the BEST way to know if you have termites is to schedule yearly inspections, which Quality First provides at no charge.
Quality First makes every attempt to treat an infestation with local spot treatments rather than whole house fumigation if possible. Rather than worrying about the dangers you can't see, you can enjoy peace of mind by scheduling one of our free inspections.